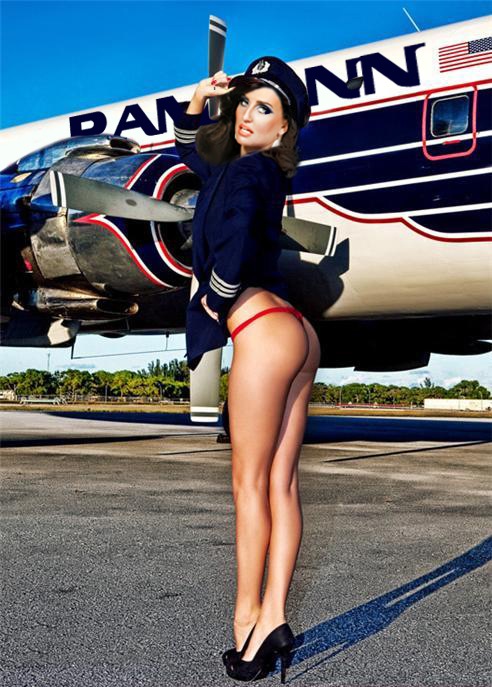 Glamorous, hilarious and outrageous Pucci-clad Melbourne born Pam Ann is the alter-ego of Australian comedienne, creator, writer and producer Caroline Reid whose portrayal of the gutsy curvaceous air-hostess is unique in the world of comedy.
She takes passengers on a raucous journey from check-in to security to boarding to, hopefully, landing. Along the way, she pokes fun at air travel, the quirks of some of the biggest international airlines and some of the stereotypes commonly held about flight attendants everywhere. Her genius is in mixing camp, culture, humor, fabulousness and a bit of slapstick into an outrageous in-flight cocktail that the likes of Elton John has hired for his own private jet (but Pam won't tell us if he was a good passenger or not!). She's also has toured with Cher on her Arena tour of the UK including sell out crowds at London's Wembley Stadium. She's developed a cult-like international following and counts Elton John, Cher and Madonna (who describes Pam Ann as "cruelly funny") as fans.
When she's not jet-setting with the stars or flying the world sourcing material for her next performance, she can be found selling-out every stage she hits – from New York's Hammerstein Ballroom to San Francisco's Castro Theatre, Sydney's iconic State Theatre to Melbourne's Athenaeum. She's headlined at the legendary Caroline's on Broadway in New York and in 2010 performed at the prestigious London Palladium, The Royal Albert Hall and sold out 3 shows at the 3600 seat Hammersmith Apollo – her largest solo audience to date. True to her status as emerging international comedy icon, she's toured Germany, Sweden, Denmark, Belgium, Netherlands, France and Canada. Her upcoming world tour 'Around The World' took off in the UK in April 2011 and will continue throughout North America, Australia, Europe and will see her touch down in Poland, Italy, Portugal and Spain for the first time.
In her native Australia, Pam Ann starred on her own television talk show, 'The Pam Ann Show' on the national Foxtel channel. She also hosted Australia¹s live broadcast of Mardi Gras 2009, airing in over 2 million households.
Among Pam Ann's greatest hits: an advertising campaign and training videos for British Airways, the inclusion of her hit Live DVD 'Come Fly With Me' on Qantas' in-flight programming, the face of London's Heathrow SkyTeam Terminal. Pam Ann also performed on their first ever JetBlue – JetPride flight, a first on a US carrier.
This quote from a recent article on sparksheet.com sums her up perfectly: "Pam Ann loves airlines and the people who staff them. She's the airline geek's goddess. She makes having a plane fetish cool. She's a throwback to the days when flying was elegant, when Branniff's flight attendants did "The Air Strip" out of Pucci-designed uniforms. But you just have to watch her videos to know she's got a very special relationship with flight attendants. She's having a laugh with them, not at them – and that affection comes through loud and clear in her material."
Our jet-setting a-list airhostess to the stars has made a much anticipated move to the US and is now based in New York City. Pam Ann continues to sell out tours globally and looks forward to continue to tour worldwide adding South Africa and Asia to her World Tour in 2013 and is currently writing a Pam Ann movie and developing a television show. Pam Ann's latest DVD 'Getem Bitch' filmed LIVE from NYC is due out later this year.
The Sky's the Limit!